Lang Lang Black Diamond
Limited Edition
An artistic collaboration between virtuoso Steinway Artist Lang Lang and iconic designer Dakota Jackson.
An extraordinary
limited edition of 88

88 Black Diamond Model B Steinways
The black diamond limited edition's pristine silhouette and sonorous tonality is the perfect match for an incomparable pianist who musically expresses the inexpressible. Dakota Jackson, the award-winning designer of this Steinway Limited Edition, takes inspiration from the theory that black diamonds are extraterrestrial in origin — the result of an exploding supernova. Jackson views the black diamond's brilliance and rarity as simpatico with the genius and spirit of virtuoso steinway artist Lang Lang.
"I believe that the Black Diamond is the visual expression of infinite possibilty."

—Dakota Jackson
The Black Diamond an exquisite work of art
Every diamond is categorized according to four distinct properties: color, carat, cut and clarity. Black diamonds, with their extraordinary origins, are the rarest — and most prized.
2.5 Million Carats The value of virtuosity
The piano's weight — and the value of the Black Diamond investment: financial sustainability, a benchmark of music history, and passion encased.
Lustrous metallic accents and sweeping lines give the Black Diamond Limited Edition an incandescent appearance.
Shaped by interstellar inspiration
The designer Dakota Jackson has a long-established relationship with steinway & sons. For Jackson, the mysterious aura surrounding black diamonds inspired the name and silhouette of this masterpiece, while reflecting Lang Lang's truly otherworldly performances, which inspired Jackson.
Watching Lang Lang play, Jackson witnessed the pianist's dynamics: "a searing attack, so precise, almost like a stiletto, which is long, narrow and thin and so perfectly honed — and a stiletto's job is to pierce the heart. And so, as I was witnessing Lang Lang, there was an element to the way his sounds and emotions literally pierced me." This notion of the stiletto, topped with a diamond shape, evolved into the black diamond.
Steinway Clarity Passion & perfection from material to sound
The finest materials, the highest production standards and the richest sound are required to craft the perfect instrument.
"The Black Diamond has not only the look — but the sound, the emotion, the touch."

Lang Lang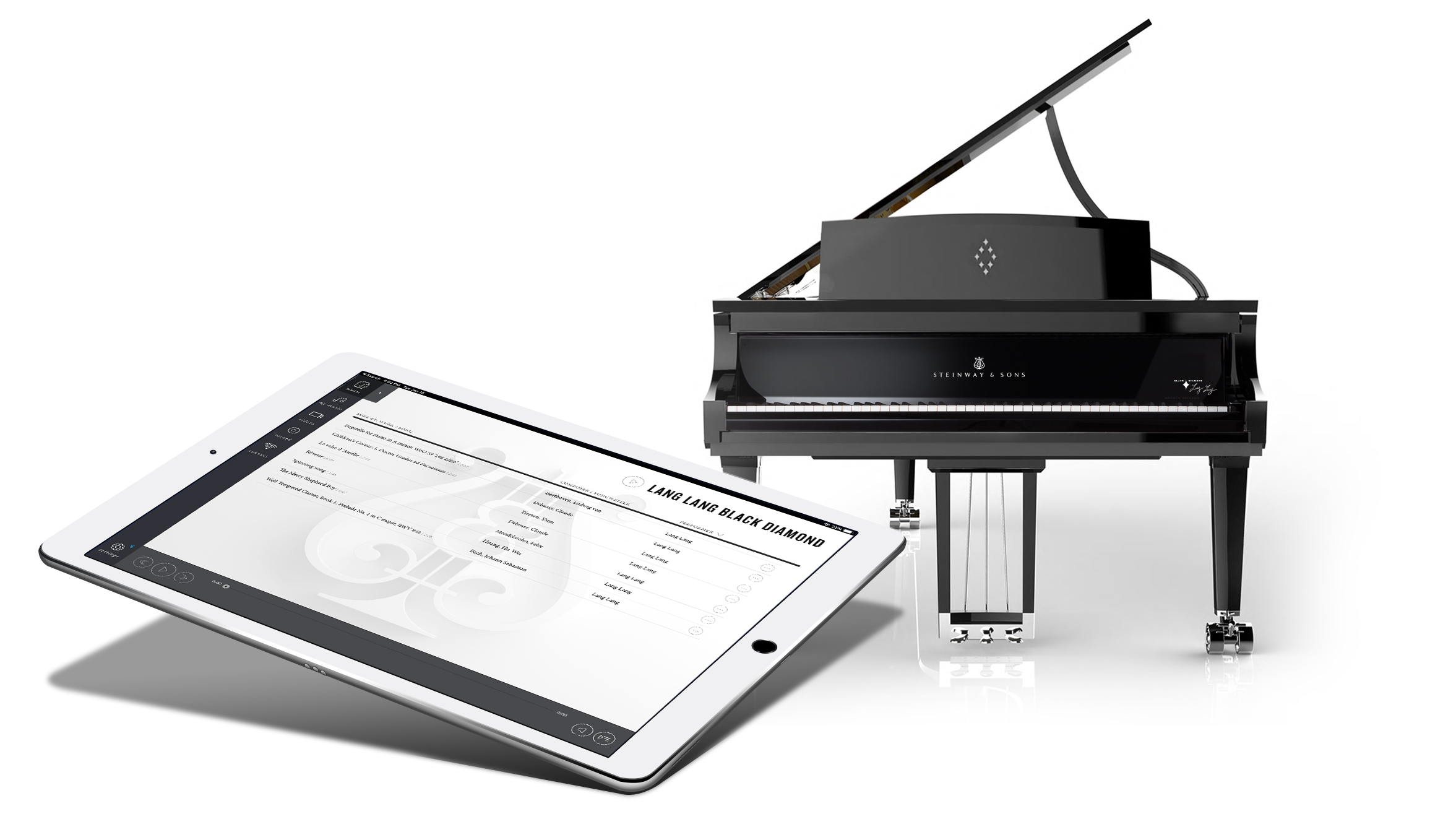 Steinway Spirio | r
Every black diamond comes equipped as a revolutionary Spirio | r, the world's finest high resolution player piano capable of live performance capture and high resolution recording and playback, giving life to your Steinway with performances from the world's greatest pianists in a constantly updated and growing library. A revolutionary blend of artistry, craftsmanship, and technology, Spirio | r provides new tools of expression and new ways to access, share, and experience performance.
The black diamond features a Limited Edition Spirio Playlist. Recorded by Lang Lang, this exclusive playlist is only available only a black diamond.
Black Diamond Model B — Edition of 88

Eighty-eight Black Diamond Limited Editions are featured as a Model B in Ebony or Macassar Ebony. Each instrument is offered as a Spirio | r — the world's finest high resolution player piano.

Complimentary iPad Pro® included.

Length — 6' 11" (211 cm)
Width — 58" (148 cm)
Weight — 760 lbs (345 kg)